COME HOME TO BETTER
It takes time to build a better community but it begins with believing in better. We believe you want more than just a house. You want a sense of place. You want to sit on your front porch and enjoy the flowers in your yard, the landscaped boulevards and the amazing mountain views. You want to live in a neighborhood where kids can safely walk down sidewalks to visit friends and family and play in neighborhood parks.
You enjoy an active lifestyle and want to walk your dog and run, hike or bike on paved trails that connect to business, shopping, schools and entertainment. You are community-minded and appreciate energy conservation and protecting land, wildlife and water resources.
And most of all, you value time to enjoy your home, your family and all that Montana offers.
That's why we believe in building a better community – because you believe in better!
– Mark Runkle & Rebecca Ryland

Read the Latest News from Mountain View Meadows
Believe in Better: PARK DEDICATION THURSDAY, JULY 31
On July 31st developer Mark Runkle will donate and hand over control and maintenance of the brand new Mountain View Park to the City of Helena. The development of the park, estimated at well over $600,000, has proven to be a monstrous but rewarding project that Mark likened to "birthing an elephant". The general public is invited to join Mayor Jim Smith and Parks Department dignitaries, area residents and V.I.P.'s from in and around Helena in celebrating this special event scheduled to begin at 6 PM. Along with the short dedication ceremony, attendees can participate in a variety of activities geared towards various age groups including a Kids Push & Pull Parade for children 11 and under, a Hot Dog Eating Contest for ages 12 and up, a basketball free throw contest for two ages brackets, 7-11 and 12 & up, a V.I.P. horseshow competition, a beachball volleyball game for adults 50 and over and various tennis games for teens and adults. There will be field games for kids 11 and under broken down into smaller age groups and face painting for the little ones. An area of sidewalks will be dedicated to sidewalk chalk art and a D.J. will be on hand to keep all the activities on track and announce winners of the various events. Most activities offer cash or other prizes and only the hot-dog eating contest carries a registration fee. Sign-ups for the various activities begin July 5. For additional information about any event or to register, contact Rebecca at 431-7680 or by email at rryland@mvmeadows.com or stop by the Mountain View Meadows Information & Sales Center at the corner of Stacia & S. Alice and talk with Britney. Food vendors will be on site so come on out and enjoy all the fun at Mountain View Meadows where community matters and life is better!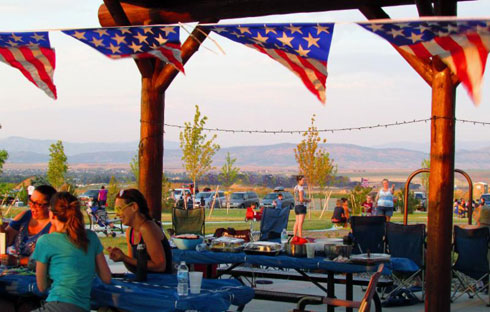 Photo: The new Mountain View Meadow Park.
•••••••••••••
Located in the City of Helena, approximately 1.5 miles east of I-15 just off Highway 12 E.
•••••••••••••