COME HOME TO BETTER
It takes time to build a better community but it begins with believing in better. We believe you want more than just a house. You want a sense of place. You want to sit on your front porch and enjoy the flowers in your yard, the landscaped boulevards and the amazing mountain views. You want to live in a neighborhood where kids can safely walk down sidewalks to visit friends and family and play in neighborhood parks.
You enjoy an active lifestyle and want to walk your dog and run, hike or bike on paved trails that connect to business, shopping, schools and entertainment. You are community-minded and appreciate energy conservation and protecting land, wildlife and water resources.
And most of all, you value time to enjoy your home, your family and all that Montana offers.
That's why we believe in building a better community – because you believe in better!
– Mark Runkle & Rebecca Ryland

Read the Latest News from Mountain View Meadows
Believe in Better: WELCOME BLUE CROSS BLUE SHIELD
Developer Mark Runkle got quite a wonderful surprise on his birthday Sept. 5th.  Better even than his wife, Rebecca's secret plans to take him for an overnight stay at the historic Izaak Walton Inn in Essex near Glacier National Park.  Even better than the crew showing up unexpectedly for cake and pizza.  What topped it all off could not have been better news: Blue Cross Blue Shield of Montana announcing plans to begin construction in 2015 of its new offices in Helena.  And not just at any place, but on the more than 20 acres BCBS purchased a little over 2 years ago in commercial phase I at Mountain View Meadows.  Located just off Highway 12, BCBS will anchor The Crossroads Business and Retail Center at the Mountain View Meadows subdivision, a mixed-use community in the city of Helena.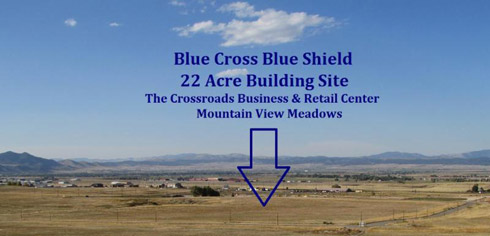 Photo: Future site of the Crossroads Business and Retail Center
•••••••••••••
Located in the City of Helena, approximately 1.5 miles east of I-15 just off Highway 12 E.
•••••••••••••