COME HOME TO BETTER
It takes time to build a better community but it begins with believing in better. We believe you want more than just a house. You want a sense of place. You want to sit on your front porch and enjoy the flowers in your yard, the landscaped boulevards and the amazing mountain views. You want to live in a neighborhood where kids can safely walk down sidewalks to visit friends and family and play in neighborhood parks.
You enjoy an active lifestyle and want to walk your dog and run, hike or bike on paved trails that connect to business, shopping, schools and entertainment. You are community-minded and appreciate energy conservation and protecting land, wildlife and water resources.
And most of all, you value time to enjoy your home, your family and all that Montana offers.
That's why we believe in building a better community – because you believe in better!
– Mark Runkle & Rebecca Ryland

Read the Latest News from Mountain View Meadows
Believe in Better: HELENA'S BETTER HOMES SECRET
Knob Hill, the Upper West and West Ridge.  That's what most people think when searching for the best new upscale homes in Helena.  But think again.  The better homes secret is right in the Aspen Park neighborhood at Mountain View Meadows.  Besides the fact that Aspen Park has stunning mountain views of both the Elkhorns and the Big Belts, Mountain View Meadows lies well above the valley floor.  Not as steep as West Ridge where the views are unmatched in Helena, but on easier to build executive size city lots in a neighborhood dedicated to high standards and gorgeous curb appeal.  Aspen Park, designed to meet the discerning needs of the over $350K buyers, includes the kind of amenities that make an upscale neighborhood feel like a gated community.  Design standards require a minimum of roof gables to enhance the look of the homes as well as a choice of steel architectural roofs or concrete tile shingled roofs which boast a 75 year warranty so that you can rest assured when it comes time to downsize -- if that time ever comes -- you won't have to worry about replacing your roof or damage from a leaky roof.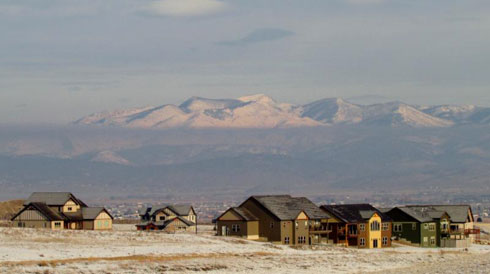 Photo: Wintertime at Mountain View Meadows
•••••••••••••
Located in the City of Helena, approximately 1.5 miles east of I-15 just off Highway 12 E.
•••••••••••••