COME HOME TO BETTER
It takes time to build a better community but it begins with believing in better. We believe you want more than just a house. You want a sense of place. You want to sit on your front porch and enjoy the flowers in your yard, the landscaped boulevards and the amazing mountain views. You want to live in a neighborhood where kids can safely walk down sidewalks to visit friends and family and play in neighborhood parks.
You enjoy an active lifestyle and want to walk your dog and run, hike or bike on paved trails that connect to business, shopping, schools and entertainment. You are community-minded and appreciate energy conservation and protecting land, wildlife and water resources.
And most of all, you value time to enjoy your home, your family and all that Montana offers.
That's why we believe in building a better community – because you believe in better!
– Mark Runkle & Rebecca Ryland

Read the Latest News from Mountain View Meadows
Believe in Better: IN MEMORY OF KYLE COURCHANE
Sadly on Tuesday evening, April 28, our community lost an endearing man who had one of the most rarest of qualities -- an enormously positive attitude.   Kyle Courchane leaves behind four adoring children - the youngest only three years of age - a loving wife, and friends and colleagues who will sincerely miss him. Kyle, a broker with Real Estate of Montana, first became involved with Mountain View Meadows when builder Envision Homes enlisted him as their agent.  He and his closest comrade, Josh Dupler accepted the arduous task of selling new homes during the economic downturn and never once complained.  He was seen come rain or snow at open houses and manning the old Envision sales center.  He constantly sought ways to creatively assist home-buyers in obtaining financing despite the tight lending environment.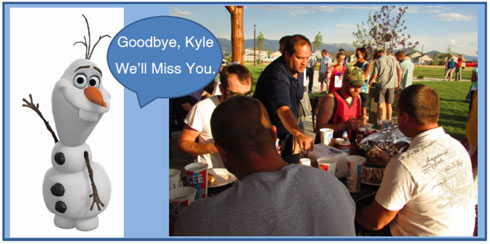 Photo: We Will Miss You, Kyle Courchane
•••••••••••••
Located in the City of Helena, approximately 1.5 miles east of I-15 just off Highway 12 E.
•••••••••••••