COME HOME TO BETTER
It takes time to build a better community but it begins with believing in better. We believe you want more than just a house. You want a sense of place. You want to sit on your front porch and enjoy the flowers in your yard, the landscaped boulevards and the amazing mountain views. You want to live in a neighborhood where kids can safely walk down sidewalks to visit friends and family and play in neighborhood parks.
You enjoy an active lifestyle and want to walk your dog and run, hike or bike on paved trails that connect to business, shopping, schools and entertainment. You are community-minded and appreciate energy conservation and protecting land, wildlife and water resources.
And most of all, you value time to enjoy your home, your family and all that Montana offers.
That's why we believe in building a better community – because you believe in better!
– Mark Runkle & Rebecca Ryland

Read the Latest News from Mountain View Meadows
Believe in Better: SIERRA CUSTOM HOMES
For over a year now, Chris Purvis, owner of Sierra Custom Homes, has made quite a statement with his nine new home builds at Mountain View Meadows and six under construction. Customers love not only his quality of work, but his way of making the process of building a home a smooth and memorable experience. If you attended last year's Parade of Homes, you may have toured one of the three custom homes he has built in the Aspen Park neighborhood. At this year's Parade, Chris will unveil a new Carriage Home plan which he developed specifically for a special end lot in the Craftsman Village neighborhood near the new 5 acre city park.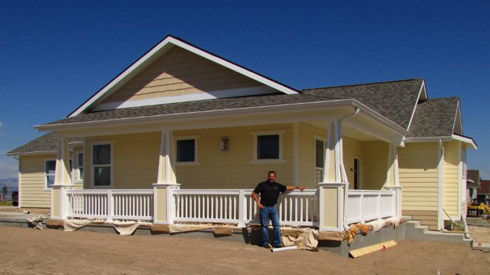 Photo: Chris Purvis, Sierra Custom Homes
•••••••••••••
Located in the City of Helena, approximately 1.5 miles east of I-15 just off Highway 12 E.
•••••••••••••