COME HOME TO BETTER
It takes time to build a better community but it begins with believing in better. We believe you want more than just a house. You want a sense of place. You want to sit on your front porch and enjoy the flowers in your yard, the landscaped boulevards and the amazing mountain views. You want to live in a neighborhood where kids can safely walk down sidewalks to visit friends and family and play in neighborhood parks.
You enjoy an active lifestyle and want to walk your dog and run, hike or bike on paved trails that connect to business, shopping, schools and entertainment. You are community-minded and appreciate energy conservation and protecting land, wildlife and water resources.
And most of all, you value time to enjoy your home, your family and all that Montana offers.
That's why we believe in building a better community – because you believe in better!
– Mark Runkle & Rebecca Ryland

Read the Latest News from Mountain View Meadows
Believe in Better: BLUE CROSS BLUE SHIELD BREAKS GROUND
Let the earth moving begin!  With Helena Sand & Gravel awarded the building site development contract for the new Blue Cross Blue Shield headquarters in The Crossroads Business & Retail neighborhood at Mountain View Meadows, huge earth moving equipment began arriving and firing up their engines early last week.  The beautifully designed and engineered approximately 100,000 Sq. Ft. building (SMA Architects of Helena) scheduled for completion in September of 2016 will become the work home to approximately 500 Blue Cross Blue Shield employees. Locally based Dick Anderson Construction will begin work on the building as soon as the site-work is completed.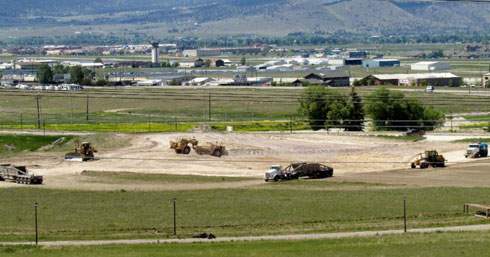 Photo: Earth Moving Begins
•••••••••••••
Located in the City of Helena, approximately 1.5 miles east of I-15 just off Highway 12 E.
•••••••••••••