COME HOME TO BETTER
It takes time to build a better community but it begins with believing in better. We believe you want more than just a house. You want a sense of place. You want to sit on your front porch and enjoy the flowers in your yard, the landscaped boulevards and the amazing mountain views. You want to live in a neighborhood where kids can safely walk down sidewalks to visit friends and family and play in neighborhood parks.
You enjoy an active lifestyle and want to walk your dog and run, hike or bike on paved trails that connect to business, shopping, schools and entertainment. You are community-minded and appreciate energy conservation and protecting land, wildlife and water resources.
And most of all, you value time to enjoy your home, your family and all that Montana offers.
That's why we believe in building a better community – because you believe in better!
– Mark Runkle & Rebecca Ryland

Read the Latest News from Mountain View Meadows
Believe in Better: SHARING THE JOY!
If you missed the Mountain View Park Dedication and Special Activities July 31 you missed an awesome event. Visitors to the park starting showing up a little after 3:00 PM and the last to go headed home about 10:30. Helena Parks & Recreation Director, Amy Teegarden led the Dedication Ceremony which culminated with Mark Runkle & Rebecca Ryland presenting a small elephant trophy to Mayor Jim Smith which symbolized their gift of a fully-developed 5.2 acre park to the City of Helena. Mark had often referred to the planning, designing and development of the park, which took well over 2 years, to "birthing an elephant." Board chair, Peter Mollet from the Helena Area Chamber of Commerce closed the dedication by offering praise to Mark and Rebecca saying their gift represents what "Business can do to give back to their community."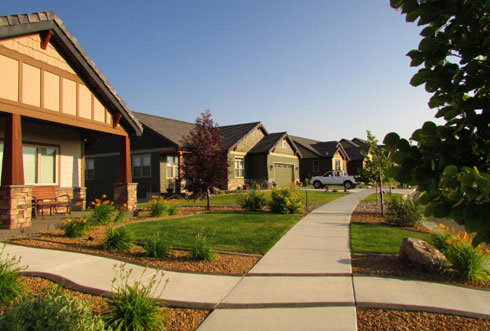 Photo: The new Mountain View Meadow Park.
•••••••••••••
Located in the City of Helena, approximately 1.5 miles east of I-15 just off Highway 12 E.
•••••••••••••