COME HOME TO BETTER
It takes time to build a better community but it begins with believing in better. We believe you want more than just a house. You want a sense of place. You want to sit on your front porch and enjoy the flowers in your yard, the landscaped boulevards and the amazing mountain views. You want to live in a neighborhood where kids can safely walk down sidewalks to visit friends and family and play in neighborhood parks.
You enjoy an active lifestyle and want to walk your dog and run, hike or bike on paved trails that connect to business, shopping, schools and entertainment. You are community-minded and appreciate energy conservation and protecting land, wildlife and water resources.
And most of all, you value time to enjoy your home, your family and all that Montana offers.
That's why we believe in building a better community – because you believe in better!
– Mark Runkle & Rebecca Ryland

Read the Latest News from Mountain View Meadows
Believe in Better: CUSTOM HOMES AT ASPEN PARK
With home values on the rise, it isn't surprising that more buyers are searching for standout properties that meet the interests of the discerning homebuyer. Considerations such as features, benefits to home owners, neighborhood design and community amenities now more than ever play a key role in determining where to build or purchase a custom home. Not all custom home buyers want to deal with the time and upkeep on acreage and many want the advantages of living close to social and dining enclaves and other lifestyle amenities. They want the confidence and convenience of city sewer and water services, police and fire protection and complete streets and sidewalks and perhaps most of all, they want to feel confident that neighbors are as concerned about their homes as they are of their own. That is why neighborhoods like those on the upper west side, Reader's Village, and Knob Hill have attracted so many of Helena's custom home buyers.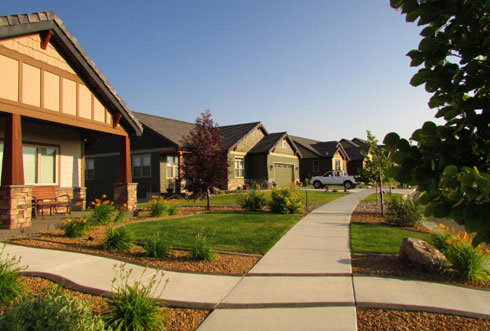 Photo: Homes in the Aspen Park Neighborhood of Mountain View Meadows
•••••••••••••
Located in the City of Helena, approximately 1.5 miles east of I-15 just off Highway 12 E.
•••••••••••••