COME HOME TO BETTER
It takes time to build a better community but it begins with believing in better. We believe you want more than just a house. You want a sense of place. You want to sit on your front porch and enjoy the flowers in your yard, the landscaped boulevards and the amazing mountain views. You want to live in a neighborhood where kids can safely walk down sidewalks to visit friends and family and play in neighborhood parks.
You enjoy an active lifestyle and want to walk your dog and run, hike or bike on paved trails that connect to business, shopping, schools and entertainment. You are community-minded and appreciate energy conservation and protecting land, wildlife and water resources.
And most of all, you value time to enjoy your home, your family and all that Montana offers.
That's why we believe in building a better community – because you believe in better!
– Mark Runkle & Rebecca Ryland

Read the Latest News from Mountain View Meadows
Believe in Better: THE MOST WONDERFUL TIME OF THE YEAR!
For most of us, the holiday season from Thanksgiving through New Year's is just about the most magical, wonderful time of the year.  It's the time when we stuff turkeys and stockings -- and more often than not, ourselves!  And what could be better this time of year than sharing a bountiful table with family and friends?  How wonderful it would be to peek inside each home atMountain View Meadows when families gather round the table and reflect on both the fat and lean of the past year and the optimism of the coming New Year.  What we would see would be traditional families and blended families; families with two dads and two moms; extended families that cross over from one generation to the next; singles, single moms and dads, kids caring for their folks and grandparents caring for their kids.  Family is family whether we're born into it or join ranks with it. What makes it so wonderful  this time of years is we remind ourselves that we are all part of one big family and when we see others alone for the holidays or with little to share on their tables, we take a moment to make life for someone else just a little bit better.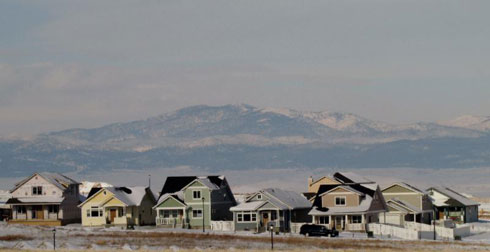 Photo: Wintertime at Mountain View Meadows
•••••••••••••
Located in the City of Helena, approximately 1.5 miles east of I-15 just off Highway 12 E.
•••••••••••••