COME HOME TO BETTER
It takes time to build a better community but it begins with believing in better. We believe you want more than just a house. You want a sense of place. You want to sit on your front porch and enjoy the flowers in your yard, the landscaped boulevards and the amazing mountain views. You want to live in a neighborhood where kids can safely walk down sidewalks to visit friends and family and play in neighborhood parks.
You enjoy an active lifestyle and want to walk your dog and run, hike or bike on paved trails that connect to business, shopping, schools and entertainment. You are community-minded and appreciate energy conservation and protecting land, wildlife and water resources.
And most of all, you value time to enjoy your home, your family and all that Montana offers.
That's why we believe in building a better community – because you believe in better!
– Mark Runkle & Rebecca Ryland

Read the Latest News from Mountain View Meadows
Believe in Better: NEW PARK-SIDE LOTS
On Monday, March 23, the Helena City Commission voted unanimously to approve Phase II of Craftsman Village at Mountain View Meadows. With this vote, 16 new lots, some located directly across from Mountain View Park, are now available for new home buyers. About 20% larger than those in phase I, the new "park-side" carriage home lots will easily accommodate single-level homes up to 1800 Sq. Ft. and 2-story homes 3,000 Sq. Ft. or more. Paving will begin along Alexis Ave., which borders the south side of the park, as soon as the weather stabilizes setting the stage for new construction. "We're really excited to open this next phase," said developer Mark Runkle. "According to national studies on the economic impact of parks on real estate, a neighborhood park can provide up to a 20% increase in housing values for nearby homes." Mark's wife, Director of Design Rebecca Ryland, has been busy researching and helping to develop new plans for this phase which are already catching the attention of prospective buyers.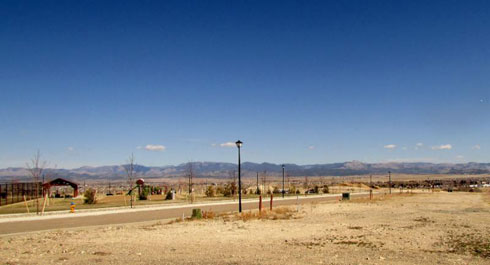 Photo: New Park-Side Lots and Mountain View Meadows
•••••••••••••
Located in the City of Helena, approximately 1.5 miles east of I-15 just off Highway 12 E.
•••••••••••••